1. Why did Kylie Kwong's wok — on a wok — burner flame up? 2. How safe is this?
See 2:11. I paste similar pictures from Google. Top. Middle. Bottom.
These flames look hazardous to me! Kylie Kwong, and the 3 men below, aren't wearing any eye or face protection! What if these flames burn the chef?!?!? Can they swell and enlarge into a kitchen fire?!??!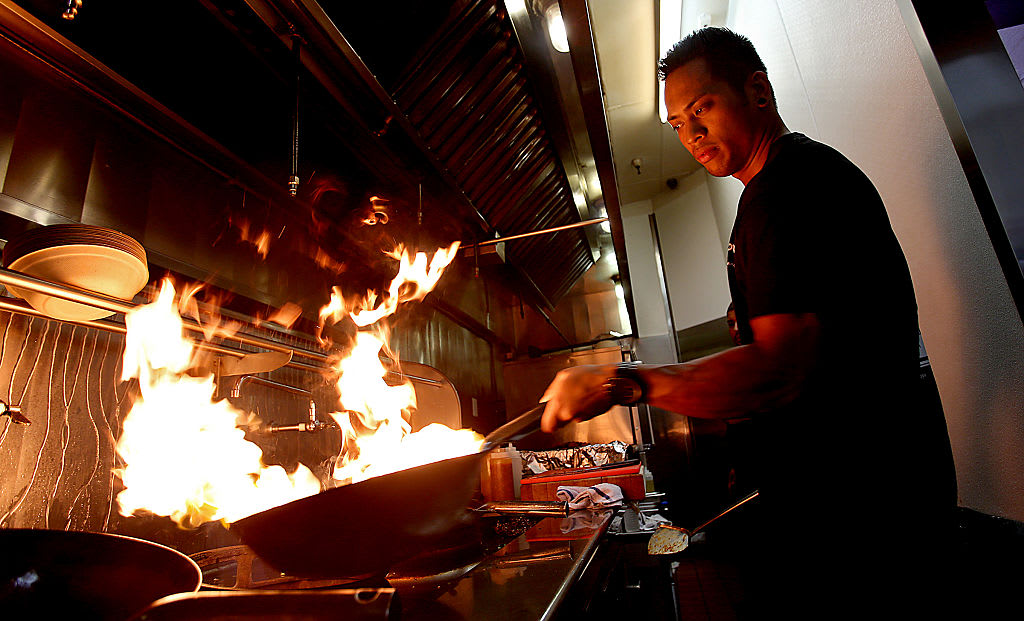 1 answer
tl;dr - Fire is always, at least somewhat dangerous. But in this technique, the fire is about as close to illusory as it can get.
This practice is called flambé. In western cooking it's generally a feature of desserts (though some mains also use it) and it appears the jury is out as to whether the technique is anything more than theatre for the restaurant patrons. To flambé food, you add alcohol to the pan (in the video you hear Kylie mention 'Chinese cooking wine' at 2.04 and how she likes 'to put quite a lot in') and as it evaporates from the heat, the alcohol fumes or vapors catch fire. You may need to tip the pan to pool the alcohol and concentrate the vapors. As fire requires fuel to continue burning and the vapor dissipates very quickly, the flames do not last and while the fire can reach 500°C it doesn't heat the pan enough to cause malliard browning
It has a more significant effect in Asian cooking and western main courses. Desserts such as crêpes suzette, bananas foster, bombe Alaska and cherries jubilee use one shot of alcohol and the dish is flambéed at the table to wow the customers. In Asian cooking the technique may be called bao and imparts a particular 'wok hei' flavour to the food.
Either way, while it's not particularly dangerous in itself, if too much alcohol is added, and the oil in the pan catches fire (not just the fumes), then the danger increases exponentially. In these situations the safest thing to do is turn off the flame, remove the pan from the heat if it is safe and maybe try to cover the pan to suffocate the flames. The worst thing to do is pour water into the pan. Water will immediately boil, quite explosively, spitting burning hot oil around the room, causing multiple fires that have a fuel source and so don't go out quickly. A reddit thread demonstrates.
Sign up to answer this question »